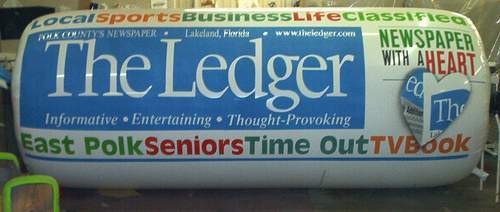 Advertising Balloons - Advertising Blimps
Advertising Balloons and Advertising Blimps Increase Visibility and Sales.
Giant Balloons and Advertising Blimps

When you need Instant Traffic or Increased Visibility a giant advertising balloon or advertising blimp is the answer.
There is not a more cost effective means for immediate response.
Give us a call for all your advertising balloons needs.
Balloons from $299.00. Blimps from $575.00.
Giant advertising balloons and custom advertising blimps create an Instant Event!
If you need Instant Advertising a helium advertising balloon or helium blimp is the answer.
In over 30 years we have seen numerous clients get great results from these simple marketing tools.
When you consider the extremely small cost for an advertising balloon there is simply no comparison with any other marketing tool.
We are referring to the people who are driving by your business, right now, not people you get from your 3 million dollar 30 second TV commercial six months from now.
Large Balloons Work! 1-800-791-1445
Buy Direct from one of the largest advertising balloons manufacturers in the USA!
Rent an entire Event from us!
We have hundreds of repeat customers!
You've got to give it a try!
Get your advertising balloons today!
Balloon Price List Click Here
For Advertising Balloons and Custom Balloons call 1-800-791-1445!
Email us for advertising balloons!
Advertising Balloons made in the USA for next day delivery.
We use only polyurethane for our helium balloons and helium blimps. We ship Advertising Balloons and Advertising Inflatables Worldwide!
Custom Balloons for events and promotions.
Click Here to Email us for advertising balloons!
Call 1-800-791-1445 for Advertising Balloons!
Advertising Balloons Create Business!
What do advertising blimps, advertising balloons, and advertising inflatables all have in common? When it comes to advertising they can place you above the competition. All three forms of advertising are cost effective and produce exceptional value for your advertising dollars. Advertising balloons create traffic and sales!
Advertising balloons come in a variety of shapes and sizes from small enough for a child to hold to 30 feet which is large enough to be seen for miles. Giant Balloons can be tethered to a building or grouped around a special product or promotion. The smaller advertising balloons can cost very little per usage and are very effective for branding your product and your company.
We've all seen the large advertising blimps floating through the sky presenting their message load and clear. How often do you see people stop and look up, or even when they are driving you'll see them glance up to view the blimp. That's because advertising blimps get peoples attention. Constructed from heavy duty polyurethane they are kept aloft with helium, a non-flammable gas. They can float or be tethered to a secure structure. They come in sizes ranging from 11 feet to 30 feet. If you want your adverting blimps to get noticed go Big!
Use these giant floating billboards to get the impact you want today!
Advertising Balloons - Advertising Blimps
Giant advertising inflatables for sales, events and promotions. Get Noticed!