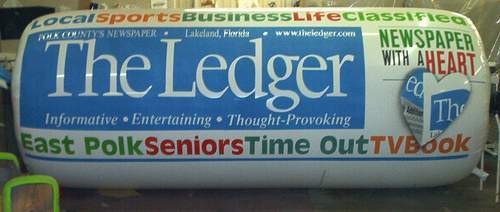 Advertising Balloons Information
Advertising Balloon Questions & Answers
What is the material used in making the products?
We use the most advanced formula of polyurethane.Polyurethane was originally developed for the space program. It is a special mixture made for us. It is light weight, tough to tear and not porous like PVC.
Where are your advertising balloons, advertising blimps and advertising inflatables manufactured.
Our products are made in the USA.
What colors are available for balloons and blimps?
Guard Red, lemon yellow, brilliant blue, orange orange, frog green, deep purple, midnight black and snow white are our standard colors. We can usually match any PMS color(no metallics) for an additional charge.
Do you have any balloons and blimps ready to ship?
YES, we normally have over 300 balloons and blimps in stock and ready to go today. Need an 11' blimp with "SALE" printed on it? Give us a call!
Can I have an original design made?
Yes, our specialty is taking your design and making it into a larger than life replica.
What do you fill the balloons with to make them float.
We advise that you use only helium for your lighter than air inflatables. Outside of the United States other gases are sometimes used. Helium is an inert, non-flammable gas that is readily available everywhere in North America.


Big Advertising Balloons - Big Blimps