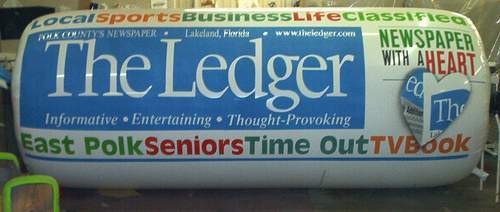 Advertising Balloons - Custom Helium Balloons
Advertising Balloons News
Outdoor Advertising - Advertising Balloons

Advertising Balloons Information and Events!
| | |
| --- | --- |
| | |
When it comes to marketing a product advertisers are always on the look out for a technique to get the attention of their potential customers. That's why Advertising balloons and advertising blimps have become so popular. They are available in a variety of shapes and sizes ranging from the small balloon you see a child carrying to those fabulous advertising blimps you see floating in the sky.

The cold air inflatable advertising balloons are a terrific promotional tool that allows you to choose the type of balloon and the type of advertising message that will be presented. This attention getting technique can offer uniqueness to help you stand out from the crowd.

Cold-air advertising balloons are large measuring anywhere from 5 feet up. A cold air fan runs continuously to keep it inflated while tethers straps keep the advertising balloons anchored in place. The set up of these larger advertising balloons can take anywhere from 30 seconds to a few hours depending on how complex they are. They are normally made from a vinyl coated nylon that can withstand winds up to 25 miles an hour without damage. The vinyl coating available for the advertising balloons comes in several different weights ranging from 7 oz to 18 oz.

Advertising blimps and advertising balloons are designed to be used at a fixed location. They are perfect for trade shows, grand openings, or any other special event where you want to attract large crowds of potential customers. The only requirements are access to an electrical outlet to provide power to the blower. The other secure such as grand openings, company events, sporting events and trade shows, as an electrical power source is needed to operate the blower unit

If you are looking for a way to grab that potential customers' attention adverting balloons are certainly worth trying. Very affordable and great use of your advertising dollars!
Why outdoor advertising?
For those of you who are thinking of how to increase the sales of your business when there are so many competitors around you, the answer is very simple: outdoor advertising. Advertising balloons, advertising blimps, or advertising inflatables are always the right approach when you have a visibility issue. They will make your store stand out of the others and its location will be visible from far away, so your customers will have no problem with orientation. More than that, using advertising balloons or even advertising blimps will attract more new customers, meaning your sales will increase.
Advertising balloons are proven to be the most cost effective way of advertising in crowded place, especially when you have a visibility issue. They are custom made according to your needs and preferences, and the costs are accessible even for the smallest advertising budgets. With advertising balloons placed right above your store you could make the biggest impact possible on all targeted customers that are moving in a large area where your store is located. Giant advertising blimps and advertising balloons can be seen from miles away and will attract the attention of your targeted customers.
Outdoor advertising is suitable also for special events like grand openings, giant blowout sales, festivals or parades. The bigger advertising balloons are the more people will be attracted by the advertised event. And even though the advertising inflatables are huge, the budget will not be affected too much because the prices are more than reasonable.
Advertising Blimps
Bonanza Balloons manufacturers helium advertising blimps in the USA. We use polyurethane, not pvc for our blimps.